Robert Sheridan commissioned Dave Curtis to produce a symbolic painting for the "Battle Off Samar."  This was a battle during WWII in which the Japanese used different colored dye shells to differentiate which ship was shooting.  The Yamato was red, and the Kongo was green, to name a few of the ships.  There are 27 ships in the painting in a battle that takes place over a period of several hours.  The painting was finished in 1990 and donated to the USS Yorktown(served in Viet Nam), a floating Naval History museum docked at Patriot's Point in Charleston, South Carolina. A direct quote from a sailor during the Battle Off Samar, "The Japanese are shooting at us in technicolor!"  Rutledge Sheridan later donated the painting to the USS Yorktown.
Gallery Of Dave's Surreal Art – Virginia Artworks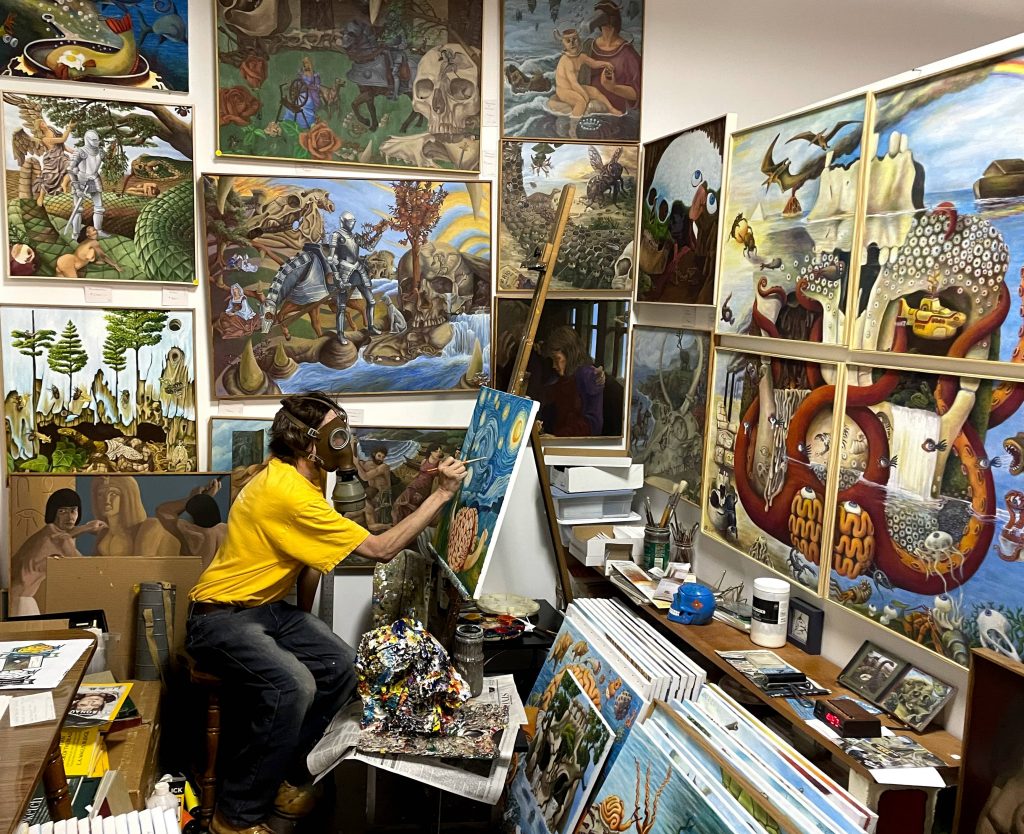 Surrealism Gallery Of Dave's Symbolic Art
Dave has been painting since the 1980s. His work is inspired by ancient US art & touches on stories from various religions, & mythology, as well as events from history. Currently, his work explores environmental and U.S. political topics. This Virginia artist's work is thought-provoking and sometimes challenging. Since 2017 Dave has been producing more work than ever, and his prolific output is equaling about 1 or 2 paintings a month. In the Painting Gallery below, you will see some of the work Dave has sold that is no longer available except maybe as a reproduction (Check our Shop section). If you see something you like here, Dave may be open to taking a commission, especially if he has an artistic license.
First Day Covers - Block Prints Gallery
What is the First Day of the Issue Cover?  It's an envelope bearing a stamp or stamps postmarked on the issue's day. Most of the time, a machine-made work of art accompanies the postal cancellation.  In addition, there can be special cancellations to mark the occasion of the stamp's release. In 1996 Dave Curtis began creating limited edition prints that he carved out of linoleum blocks.  Initially, the designs varied from ordinary subject matter that went with the stamp's subject. Still, on occasion, the artist's creativity got the best of him, and he created surrealistic pieces.  These are the rare ones!  Over the past 20 years, Dave won many awards for his covers, but now he is well known for his covers.  In 2015 he received a great honor by having a cover entered into the US art & permanent collection of the Smithsonian's American History Museum.  In 2016, Dave created over 2000 individual designs.